Are you looking to incorporate the benefits of yoga into your daily routine without the constraints of time or location? With the rapid advancement of technology, finding the best free yoga app has become an accessible and convenient way to achieve physical, mental, and emotional well-being. Whether you're a beginner or an experienced practitioner, these apps offer a wide range of features and resources to support your yoga journey. In this article, we will explore the top free yoga apps available and guide you toward finding the perfect one for your needs.
In recent years, yoga apps have gained popularity as a convenient way to practice yoga at home or on the go. These apps provide a digital platform where users can access a variety of yoga classes, guided meditations, and helpful resources. From beginners to advanced yogis, these apps cater to a wide range of skill levels and preferences. Let's explore the numerous benefits of incorporating yoga into your daily routine.
Benefits of Practicing Yoga
Yoga offers a multitude of benefits for both the body and mind. Regular practice can improve flexibility, strength, and balance while reducing stress, anxiety, and depression. It enhances focus, promotes relaxation, and cultivates mindfulness. Additionally, yoga can aid in weight management, improve sleep quality, and boost overall well-being. With a free yoga app, you can experience these benefits from the comfort of your own home.
Factors to Consider When Choosing a Yoga App
When selecting the best free yoga app for your needs, several factors should be considered. Here are some essential aspects to keep in mind:
Skill Level: Ensure the app caters to your skill level, whether you're a beginner, intermediate, or advanced practitioner.
Variety of Classes: Look for an app that offers a wide range of yoga styles and class lengths to suit your preferences and schedule.
Quality of Instruction: Check if the app provides clear and easy-to-follow instructions with proper alignment cues.
User-Friendly Interface: Opt for an app with an intuitive interface and user-friendly navigation for a seamless experience.
Additional Features: Consider whether the app offers features like progress tracking, customizable sessions, and the ability to save your favorite classes.
Now that we understand the factors to consider, let's explore the best free yoga apps available.
20 Best Free Yoga Apps
1. Yoga for Beginners Mind + Body
When it comes to free yoga apps, they can often feel basic or lacking compared to their paid counterparts. However, that is not the case with this exceptional app.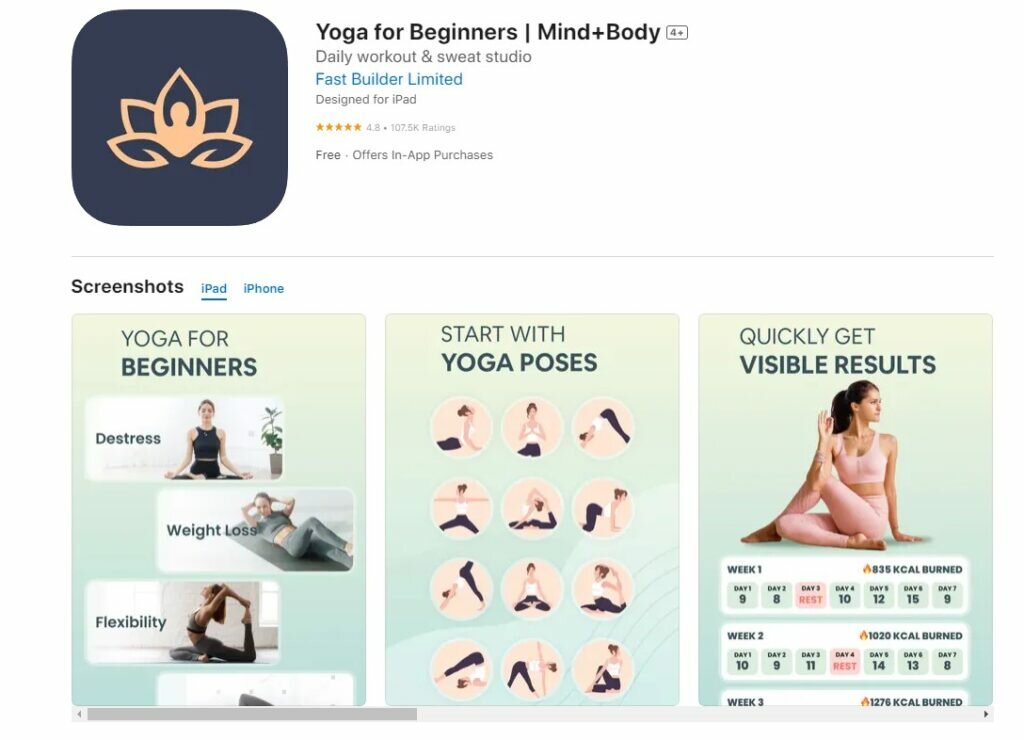 This app stands out by offering an unparalleled range of workout choices, with flows categorized based on the time of day and specialization. The user-friendly categories feature is particularly helpful for beginners who may be unsure about which exercises are suitable for them.
For instance, you can easily find a refreshing morning yoga session or a targeted workout to strengthen your back or abs through the convenient categories.
Beginners will find a comfortable starting point with the dedicated "beginner yoga" section, which provides comprehensive instruction on the basics before progressing to more complex poses. As you advance, the app's expert guidance makes it effortless to elevate the difficulty of your sessions. Moreover, you have the flexibility to build and customize your own workouts, taking full control of your program as you become more acquainted with yoga.
Impressively, all workouts are completely free, which explains the app's exceptional five-star rating from nearly 70,000 reviews.
If you are an iPhone or Apple device user, you'll appreciate its integration with Apple Health, enabling effortless tracking of workouts, weight loss, and calories burned. In essence, Yoga for Beginners has everything you need. Beginners will appreciate the simplicity, easy-to-follow instructions, and on-screen diagrams that illustrate each pose.
Not only is this app one of the best free options for beginners, but we believe it could very well be the best free yoga app available overall.
Seasoned practitioners will also benefit from the app's customizable workouts, allowing them to work towards building a personalized program tailored to their specific needs. Experience the comprehensive features and benefits of this outstanding app for yourself. It's a true game-changer in the world of free yoga apps.
2. Yoga-Go for Weight Loss Beginners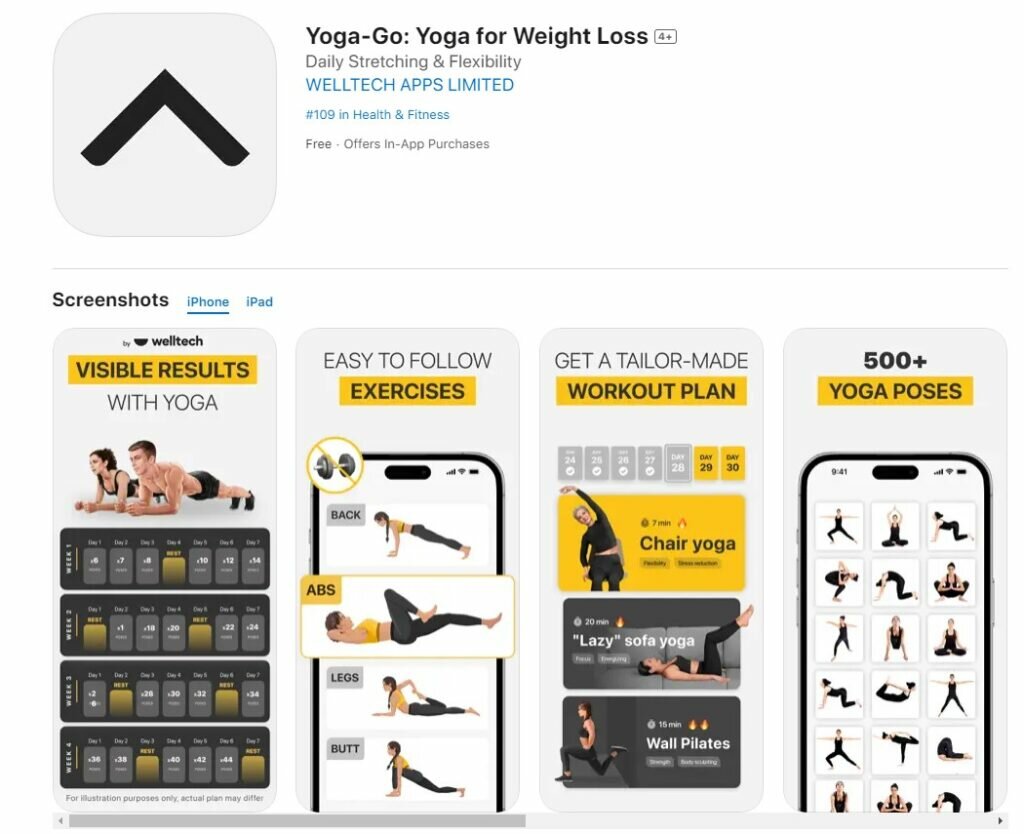 Looking for complimentary yoga applications for weight reduction? Individuals venture into yoga for various motives, but if shedding a few pounds is your primary goal, then this application serves as an exceptional starting point.
While yoga, in general, can assist you in progressing toward your weight loss aspirations, none of the other applications on our list provide programs specifically designed for calorie incineration as this application does.
We admire the seamless integration of yoga and weight loss within this application, where the workout sessions are so tranquilizing that you'll hardly even perceive the calorie-burning process. Throughout the sessions, harmonious and atmospheric melodies play, while the soothing voice of the instructor meticulously guides you through each exercise, leaving no detail unaddressed.
The instruction provided here is of the highest quality, making this application absolutely ideal for individuals who are new to yoga or have been inactive for a considerable period.
Undoubtedly, this is the supreme free yoga application for weight loss, as it is the sole one on our list explicitly tailored to that purpose. Nevertheless, while weight loss takes precedence, the application also encompasses yoga plans for enhancing sleep quality, refining balance, and reducing stress.
Although all these components contribute to the overarching goal of shedding pounds, we genuinely appreciate the variety offered. It is refreshing to encounter a weight loss program that embraces a holistic view of well-being rather than solely fixating on burning calories.
Among the free yoga applications listed, this particular one is undoubtedly one of our favorites, especially due to its unwavering focus on weight loss, which never fails to deliver. To optimize your outcomes, we recommend complementing the workouts on this application with a yoga-oriented diet.
That being said, the presence of intelligent training plans and guided exercises ensures that you will never grow weary of repeating the same sequences ad nauseam. We hold this application in high regard due to its accessibility and genuinely compassionate approach to fitness.
3. Underbelly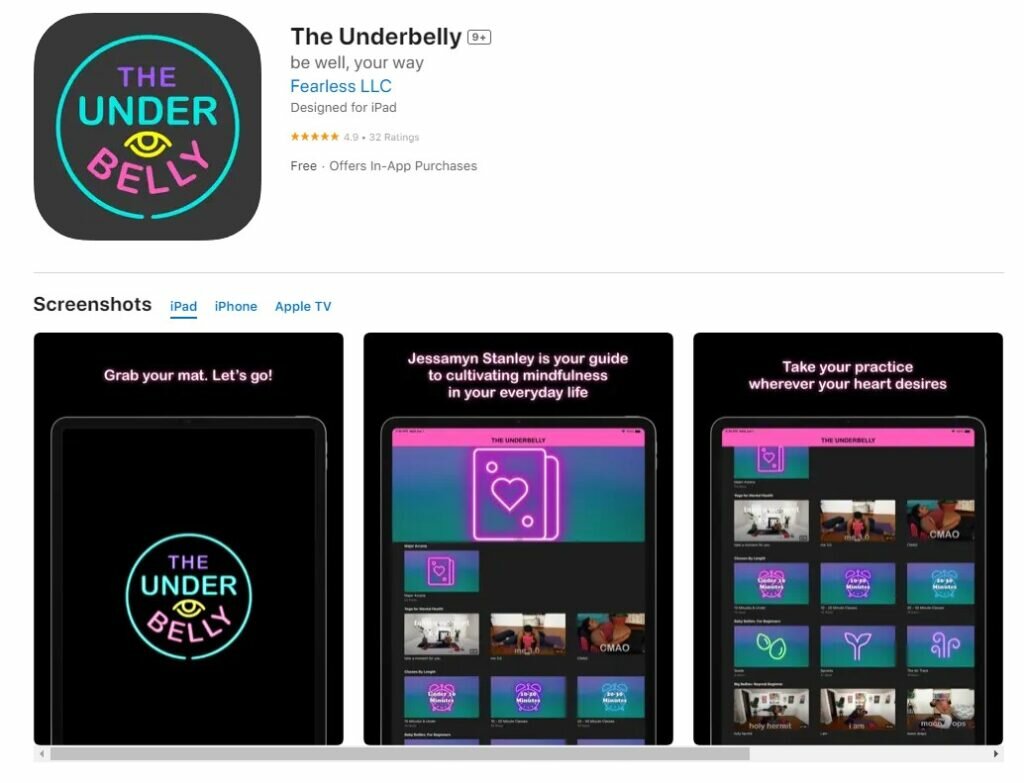 Ever experience the sensation that yoga may not be suitable for you or lacks inclusivity? Underbelly emerges to reshape your perspective and demonstrate that individuals of all fitness levels can partake in and enjoy the multitude of benefits that yoga offers.
Undoubtedly, this is the most body-positive and inclusive free yoga application available. Regardless of whether you're a novice or have never attempted yoga before, you'll appreciate the warm, inviting guidance provided by Jessamyn Stanley.
The sessions are relaxed, enjoyable, and free of any intimating aura. What's even more remarkable is the strong emphasis on mindfulness, as the application strives to help you discover a tranquil and serene space within your mind.
We genuinely relish this focus on the mental aspect of yoga, as many other applications tend to solely concentrate on the physical aspects.
Underbelly centers around listening to and honoring your body. It exudes a wonderful sense of body positivity. Engaging in these sessions will not only leave you physically fitter but also considerably more at ease within your own skin.
Jessamyn is an exceptional instructor who possesses a refreshingly pretense-free and down-to-earth demeanor.
For Android users seeking mindfulness training, this is undoubtedly one of the finest free yoga applications available. It performs excellently on iPhone as well. Moreover, if you prefer practicing yoga on a tablet, it stands as one of the top free yoga applications for iPad or tablet compatibility.
4. Simply Yoga – Home Instructor

The Simply Yoga free application has gained immense popularity, and its acclaim is well-deserved!
This application has been prominently featured in Wired Magazine and has garnered an impressive review score of 4.6 in the Apple App Store and a 4.5-star rating in the Google Play Store. It caters perfectly to beginners venturing into the realm of yoga, offering six routines tailored specifically for first-timers, with durations ranging from 20 to 60 minutes.
Nevertheless, there's an abundance of content for advanced users to embrace as well, including live-streamed yoga classes led by Yogis from around the globe.
Moreover, all the trainers featured on the Simply Yoga free application are certified professionals, ensuring that you receive top-notch instruction. Each video provides clear and precise guidance, indicating when to commence and conclude a pose, while also delving into the intricacies of proper execution. The free version of the application presents over 35 different poses catering to all skill levels, and its user-friendly interface makes it a breeze to navigate. Simply choose the desired workout duration, and follow the guidance of your instructor.
Seeking to explore exciting new poses? You'll undoubtedly appreciate our compilation of the finest yoga poses for pairs! From our standpoint, this remarkable level of specialization positions Simply Yoga as the premier free yoga application for individuals seeking professional instruction in the comfort of their own homes.
We were particularly fond of the option to select workout durations based on our schedules. With just 20 minutes to spare, anyone can fit in a quick session. And if you're ready to take it up a notch, the 60-minute programs are ideal.
If you're in search of an application that epitomizes simplicity and ease of use, free yoga fitness applications don't come much more blissfully straightforward than this.
5. Grokker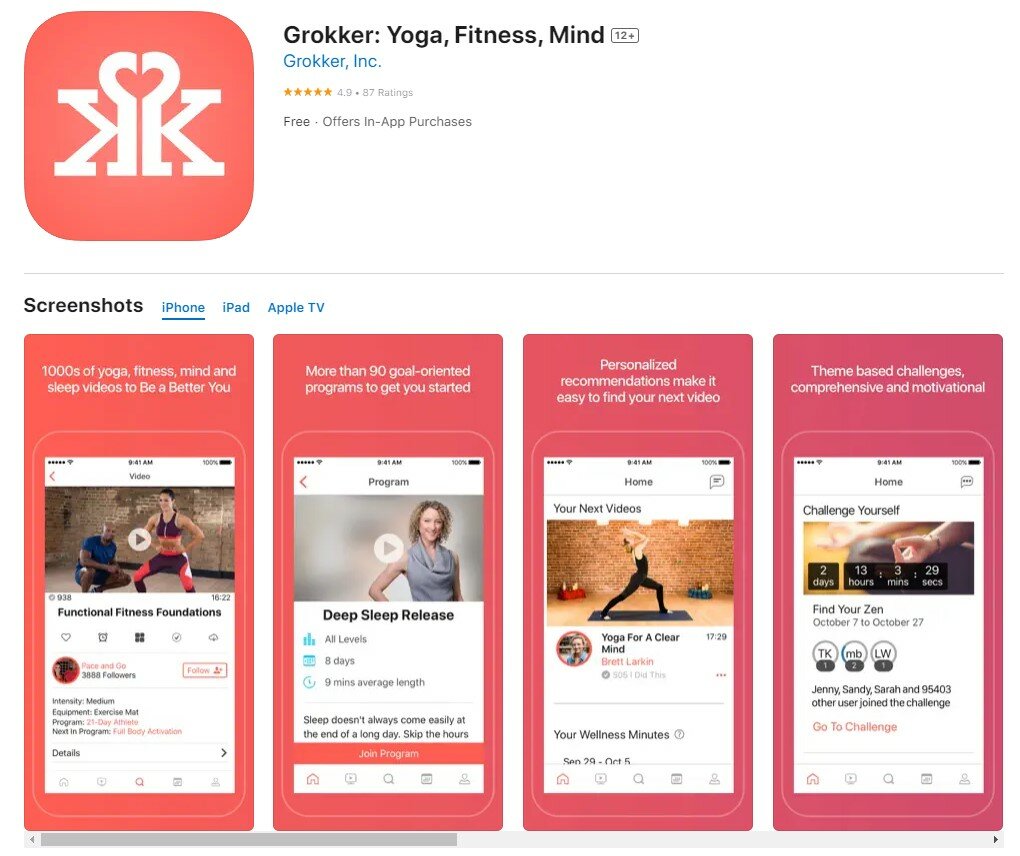 In our opinion, Grokker stands out as one of the finest free yoga applications for individuals seeking a structured approach to their routines. While a vast collection of yoga flows, programs, and poses is undoubtedly valuable, some of us prefer a more organized approach akin to what a personal trainer might provide.
This is precisely where Grokker comes into play. The application offers thousands of videos encompassing yoga, meditation, fitness tips, and healthy cooking content. However, what truly captivates us are the various challenges and structured programs it offers.
Each program varies in duration and serves a slightly different purpose. For instance, the 21-Day Athlete program serves as a fantastic all-in-one regimen designed to build muscle, promote weight loss, and enhance mobility. While the individual workouts are only 15 minutes long, the program extends over nearly a month. On the other hand, the shorter 14-Day Sugar Reset is tailored for individuals aiming to reduce their sugar intake. It effectively curbs sugar cravings and facilitates the establishment of a long-term habit of reduced sugar consumption.
Grokker also presents 7-minute HIIT yoga sessions, pilates workouts, and our personal favorite, the Daily Muscle Relief program. The latter involves 20 minutes of low-impact movements, perfect for warm-ups or alleviating muscle soreness.
The comprehensive offerings make Grokker the ultimate free yoga application for beginners who desire guidance in structuring their sessions or wish to work towards specific goals. Moreover, the application serves as an excellent hub for all things related to yoga, fitness, and healthy eating.
Furthermore, Grokker offers convenient features that allow you to save, categorize, and store videos, making it effortless to revisit your favorite content. If you're embarking on your yoga journey and seek a structured, easy-to-follow approach that delivers tangible results, we wholeheartedly recommend Grokker.
6. 5-Minute Yoga Workouts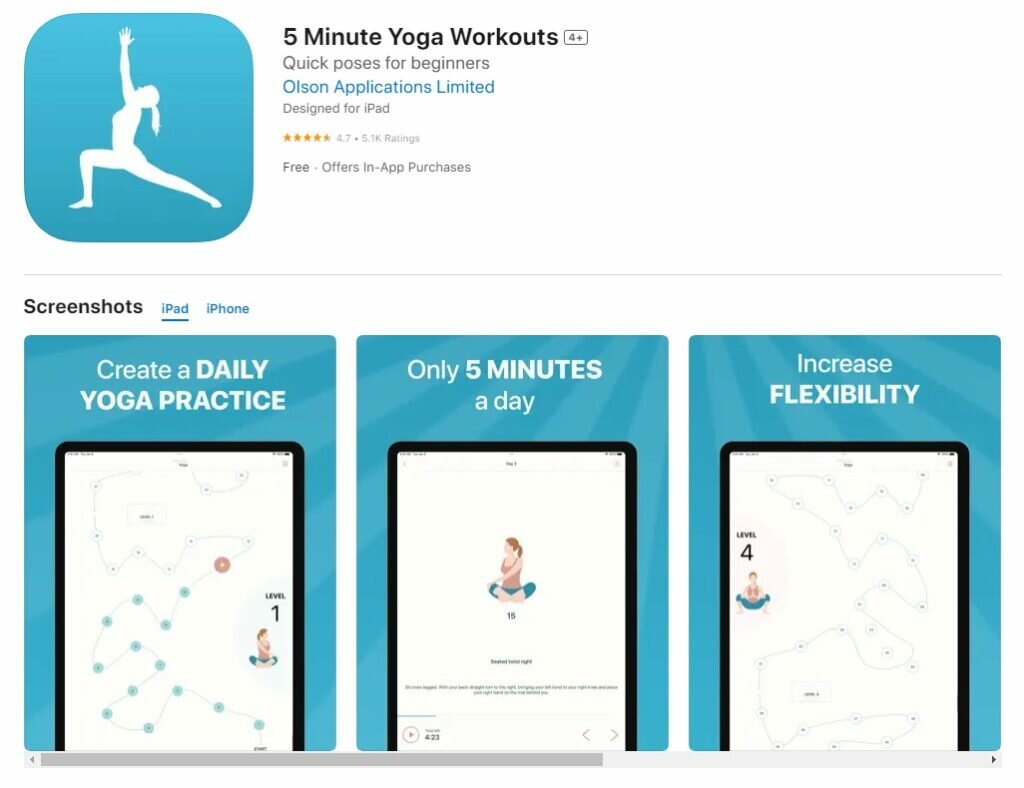 Next on our roster of outstanding free yoga applications is 5 Minute Yoga. We understand that not everyone has the luxury of time for extensive yoga programs every single day, and for those leading busy lives, finding the opportunity to engage in any form of exercise can be challenging.
Yoga has often been associated with time-consuming practices, but this application defies that notion. All sessions are completed within five minutes, making it an ideal fit for those with time constraints.
If you're seeking a daily yoga application that accommodates your busy schedule and eliminates the need to visit a local yoga studio, look no further than this app.
For beginners, in particular, 5 Minute Yoga proves to be a fantastic choice. Each pose is thoughtfully illustrated, and the inclusion of a timer ensures that you maintain each pose for the appropriate duration. The instructions provided are remarkably detailed, making it an ideal starting point for individuals new to yoga. The sound effects are gentle and soothing, with a soft bell serving as the gentle cue to transition from one pose to the next. Despite the brevity of each session, we assure you that this application will contribute to increased strength, flexibility, and reduced stress levels.
In our opinion, 5 Minute Yoga stands as the premier free yoga application for kickstarting or concluding your day. Engaging in a quick five-minute session before work proves to be an excellent way to awaken and feel refreshed, while incorporating it into your evening routine aids in relaxation and enhances the quality of your sleep.
While it may not be the most intricate application on the list or offer an extensive range of exercises, 5 Minute Yoga more than compensates through its exceptional clarity in explaining the exercises and its sheer convenience.
7. Yoga – Track Yoga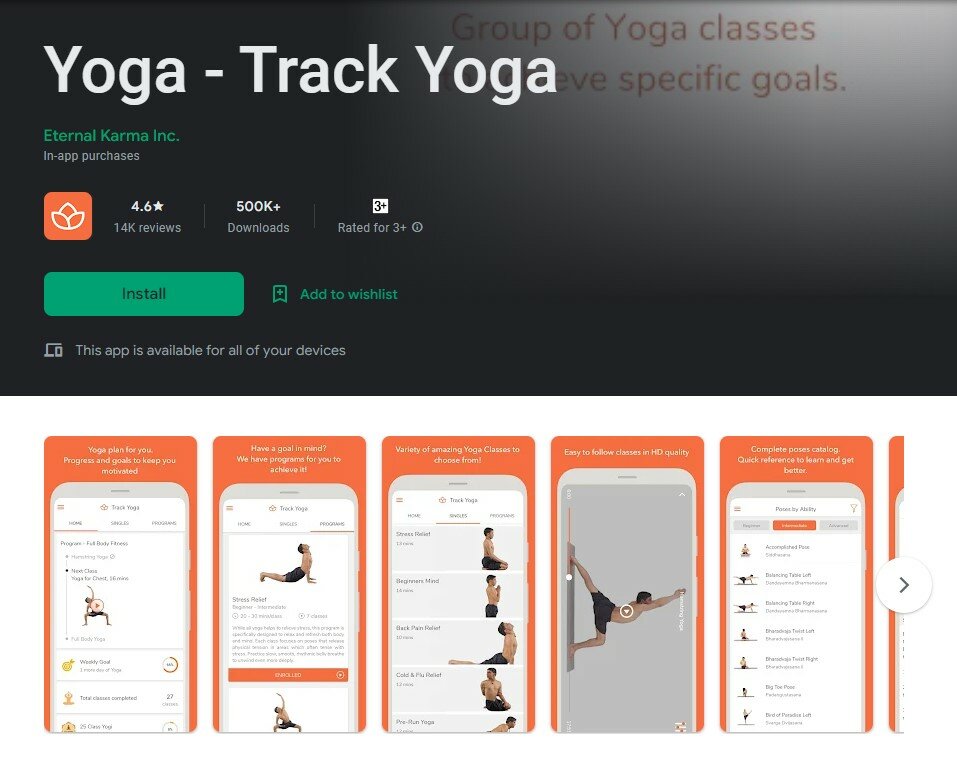 If you ever find yourself lacking motivation and in need of incentives to push forward, Track Yoga may just be the ultimate free yoga application for you.
Operating on a point-based system, the app rewards you with unlockable content as you complete exercises. This captivating concept is ideal for individuals who thrive on specific goals as a means of motivation.
This application stands out in the saturated landscape of free yoga fitness apps due to its extensive variety of offerings.
Sessions are divided into three levels, catering to beginners, intermediate, and advanced practitioners. Postures are further categorized into different types, such as inversion poses, seated poses, and restorative poses. The app leaves no room for ambiguity, providing clear explanations on how each pose benefits both the body and mind. Classes are thoughtfully organized under headings like "Flexibility Series" and "Yoga for Depression."
Unlike some yoga apps that can be confusing to navigate, Track Yoga excels in user-friendliness. It is effortless to locate precisely what you're seeking and access a program that suits your needs.
Furthermore, it comes as no surprise that this app covers a wide range of yoga styles, including Hatha yoga, Vinyasa yoga, and Ashtanga yoga, to name just a few. The guides provided assist you in setting your own pace, and since the poses are categorized based on their difficulty level, you can practice without the risk of overexertion and potential harm.
Track Yoga unquestionably emerges as the best free yoga app for individuals seeking motivation, a diverse range of styles, and a user-friendly experience. Its point-based system and a vast array of content ensure that you stay engaged and continually explore new possibilities in your yoga journey.
8. Asana Rebel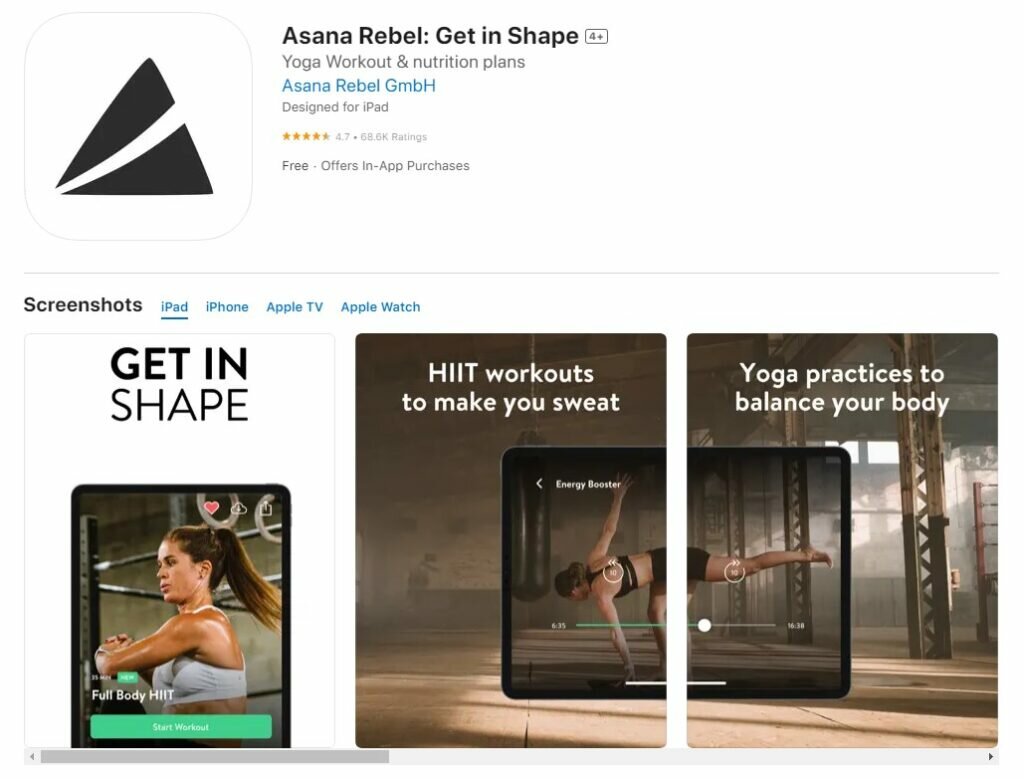 When it comes to making significant lifestyle changes, Asana Rebel unquestionably stands as the premier free yoga application.
This app goes beyond yoga to offer diet plans, weight loss tips, high and low-intensity exercises, and, of course, an extensive selection of yoga practices to keep you engaged for a long time. Its overarching objective is to assist you in adopting sustainable lifestyle choices, taking a comprehensive approach to health. While yoga remains at the core of this approach, there is a wealth of additional content available. The inclusion of diet plans proves particularly valuable, and we were delighted to find high-intensity exercises integrated into the program.
No other app on the list matches the level of intensity provided by Asana Rebel, making it an excellent option for those seeking to utilize yoga for weight loss. The daily challenges presented by the app offer specific targets to work towards, with progress tracking made simple.
However, it's important to note that Asana Rebel is not solely focused on high-intensity workouts and diets. The application places equal emphasis on the mental aspect of yoga through mindfulness training. Using specially curated music to enhance focus, the sessions guide you toward relaxation and enable you to explore the natural processes of your mind. This, in turn, offers substantial benefits for concentration and long-term productivity.
Asana Rebel truly encompasses every aspect of your life, from exercise to diet, and even mindfulness. No other app on the list provides such extensive coverage, and we believe that anyone can benefit tremendously from what it has to offer.
Embark on a journey of holistic well-being with Asana Rebel, and experience the transformative power it holds for your body, mind, and overall lifestyle.
9. Fitstar Yoga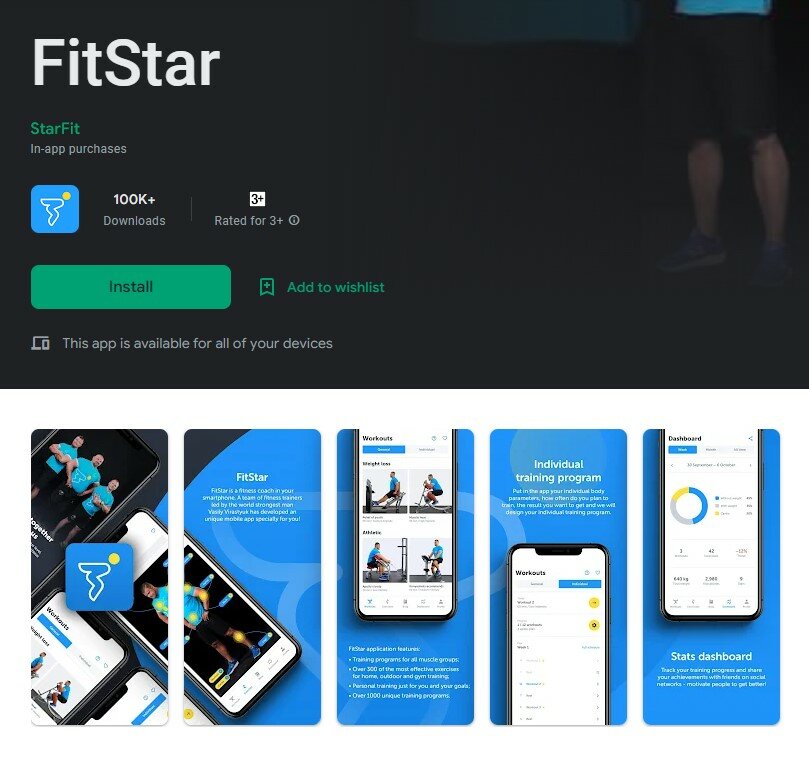 Fitstar Yoga, developed in collaboration with renowned yoga figure Tara Stiles, introduces you to the world of Strala yoga, a form created by Tara herself. Tara is not only a fitness coach to celebrities but also a bestselling author with a massive following on social media.
Strala yoga is ideal for individuals seeking a purely exercise-focused approach. It differs from spiritual forms of yoga and was born out of Tara's belief that many yoga studios can be intimidating and unsuitable for beginners. Her yoga style is incredibly accessible, easy to follow, and free from pretense. These same characteristics extend to the Fitstar Yoga app, making it one of the top free yoga fitness applications for those primarily interested in physical fitness, without a strong emphasis on the spiritual side of yoga.
If this resonates with you, then you may have just discovered your new favorite yoga style!
The app offers a wealth of content, functioning as your personal yogi. It customizes workouts to suit your needs and capabilities, based on your previous performances and preferences.
In terms of free yoga apps, Fitstar Yoga is quite impressive. Although there are in-app purchases to access all features, the free version still provides a great deal.
Each video is presented in high-definition quality, and you have the option to stream directly to Apple TV for an enhanced experience. The app incentivizes exercise through a combination of milestones and achievements. The more you practice, the more you unlock, including new poses and badges!
Immerse yourself in the Fitstar Yoga experience, guided by Tara Stiles, and enjoy a fitness-focused yoga journey that is accessible, enjoyable, and tailored to your needs.
10. Nike Training Club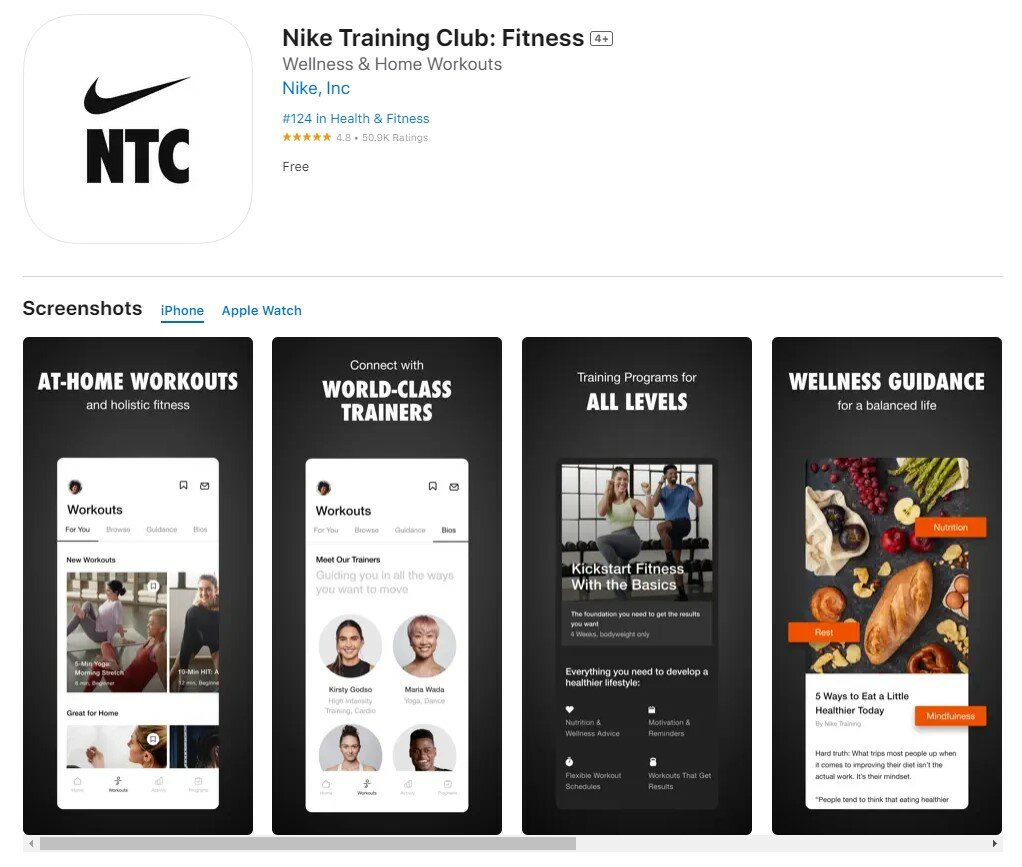 This particular app may come as a surprise, but rest assured, it incorporates a substantial amount of yoga!
While primarily focusing on athletics training, the app offers an excellent selection of specific yoga routines and a variety of yoga-based programs.
Although it may not cater to purists seeking a traditional yoga experience, this free app proves perfect for individuals looking to utilize yoga for fitness and weight loss.
The range of offerings is quite diverse. The yoga routines target fitness, strength, and endurance, with a touch of mindfulness. The app even promises to enhance your mood. The workouts provide great flexibility, spanning from 5 to 60 minutes, and cater to all levels, from beginner to advanced. Given that each class is taught by a certified Nike trainer, you can expect world-class instruction.
One notable aspect is that, unlike some other apps on the list, this one doesn't overwhelm you with in-app purchases or advertisements.
The recommendation system of the app is especially robust. With each exercise, the app learns more about you and begins to suggest suitable options for your next session. We found these suggestions to be remarkably accurate, and while they may not always be yoga moves specifically, they are consistently valuable.
In our view, this ranks as one of the top free yoga apps for fitness beginners who may later progress to a dedicated yoga app to further develop their skills.
If you're uncertain about yoga but still wish to work on your fitness, this app offers an excellent starting point. It combines the benefits of yoga with athletic training, providing a gateway for you to explore yoga in a fitness-focused context.
11. YOGOM – Yoga free for beginner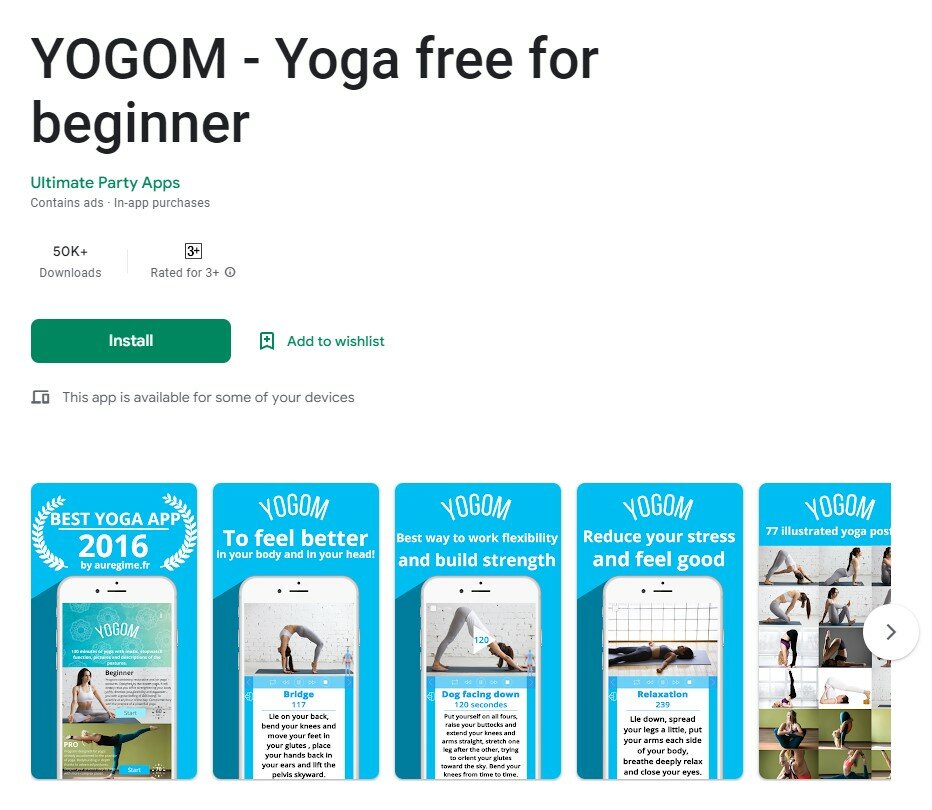 Yogom, one of the finest free yoga apps for beginners, provides over 2 hours of yoga content. While it may not be the most advanced app on the list, its simple functionality can prove to be a significant advantage.
This app offers more than just yoga poses; it encompasses everything a beginner could desire, including music, a stopwatch, images, and instructional content.
In terms of navigation, Yogom stands out as one of the most user-friendly free yoga fitness apps available. You'll never find yourself lost amidst confusing menus. Users simply select either the beginner or pro program, and a series of illustrations and instructions begin to play. A timer indicates the duration for holding each pose, and you have the flexibility to go back to a previous pose or skip anything that appears too challenging.
Our personal favorite was the beginner's program. It serves as a gentle introduction to yoga, promising relaxation, strength, and an overall sense of well-being. The exercises are simple, and the instructions are crystal clear, ensuring you can't really go wrong. The pro program takes things up a notch, focusing on advanced postures and bodybuilding.
Special recognition goes to the music provided by the renowned Manu Om, a prominent figure in the world of yoga and an expert yogi himself. Music plays a vital role in any yoga session, helping to focus the mind. Yogom offers some of the best music selections, enhancing your overall experience.
With its blissfully simple user interface coupled with exceptional music choices, Yogom easily secures its place as one of the finest free yoga apps available to both Android and Apple users in the UK. Embrace the ease and accessibility of Yogom as you embark on your yoga journey.
12. Universal Breathing – Pranayama Lite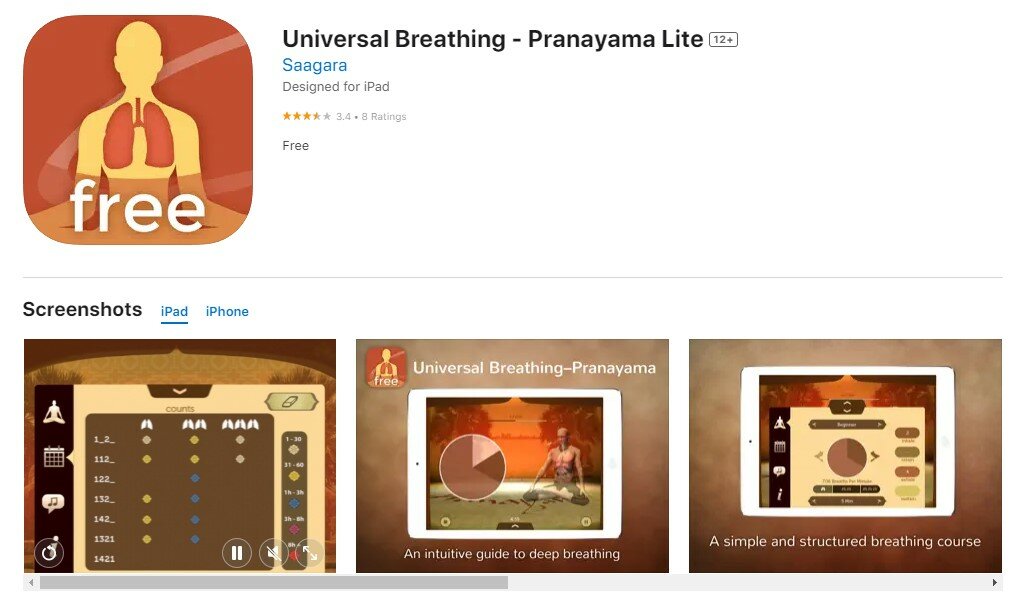 Pranayama, a unique offering among the free yoga apps on the list, diverges from focusing on specific exercises and instead centers around the vital practice of universal breathing—a fundamental principle of yoga.
While it may initially seem counterintuitive to download an app solely dedicated to teaching proper breathing techniques, we assure you that Pranayama can have a transformative impact on your life.
The concept is rooted in the understanding that while babies naturally breathe diaphragmatically, adults often engage in shallow breathing that fails to fully expand the lungs. Though this principle appears simple, it encompasses numerous hidden complexities, which the app delves into with remarkable depth.
Pranayama, also known as Universal Breathing, presents a series of exercises that require only 15 minutes of your time. By dedicating yourself to just one exercise per day, you can unlock the manifold benefits of deep breathing.
These benefits include reduced blood pressure, relief from headaches, decreased stress levels, and improved sleep. The app even claims to enhance athletic performance and aid in managing asthma.
While these may seem like grand claims, these practices have been embraced by thousands of individuals and continue to be recommended by medical professionals today.
The breathing course offered by Pranayama takes you on a journey from beginner to advanced, providing extensive and thorough guidance. Animations and instructions seamlessly guide you through each step of the process, with exercises synchronized to music. Before long, you will be conditioning your body to awaken with energy in the morning or relax and find ease in falling asleep at night.
When all is said and done, Pranayama undoubtedly stands as the ultimate free yoga app for relaxation, mental clarity, and stress reduction. Embrace the transformative power of deep breathing and embark on a journey of inner calm and rejuvenation with Pranayama.
13. Yoga – Poses & Classes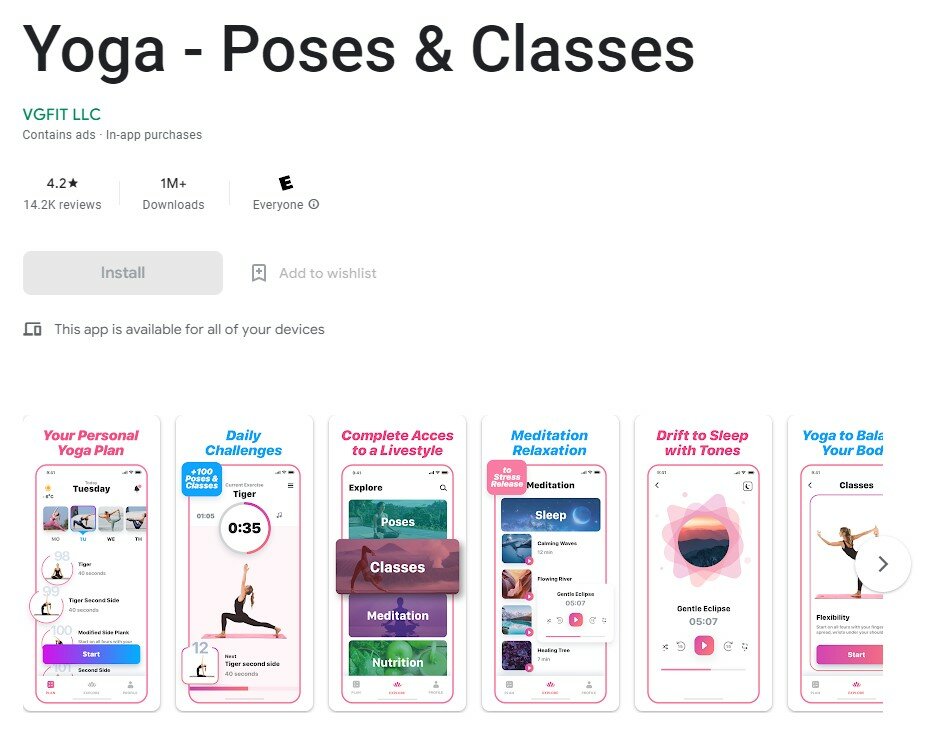 Poses and Classes stand out as one of the most accessible options among the free yoga apps available for download.
While all the apps on this list are free to download, some may require in-app purchases to unlock additional content. Poses and Classes follow this model as well but provide a substantial amount of free material supported by ads. In our opinion, the app offers more than enough content to sustain your practice indefinitely.
With an impressive collection of 100 poses, the app provides clear illustrations and easy-to-follow instructions. The diagrams and guidance offered by this app are among the most comprehensive on the list, and a built-in timer indicates when to transition to the next pose.
All classes have been meticulously designed by certified yoga experts, ensuring that you receive top-notch instruction.
We consider this app to be the best free yoga app for individuals seeking to focus primarily on balance. While the main classes emphasize strength, flexibility, and balance, it is the latter aspect that receives the most attention. Through the various poses, you will gain a deeper understanding of how your body functions and learn to achieve equilibrium, which serves as the foundation of all yoga practices.
Of course, the app offers a diverse range of targeted classes. One of our favorites is the Morning Yoga session, which provides a short and invigorating burst of energy, perfect for starting your day on a positive note.
If you often feel sluggish in the morning, we highly recommend this app as one of the best free yoga apps to help awaken your senses and invigorate your body. The Morning Yoga session is sure to leave you feeling revitalized and ready to tackle the day ahead.
14. Glo Yoga and Meditation App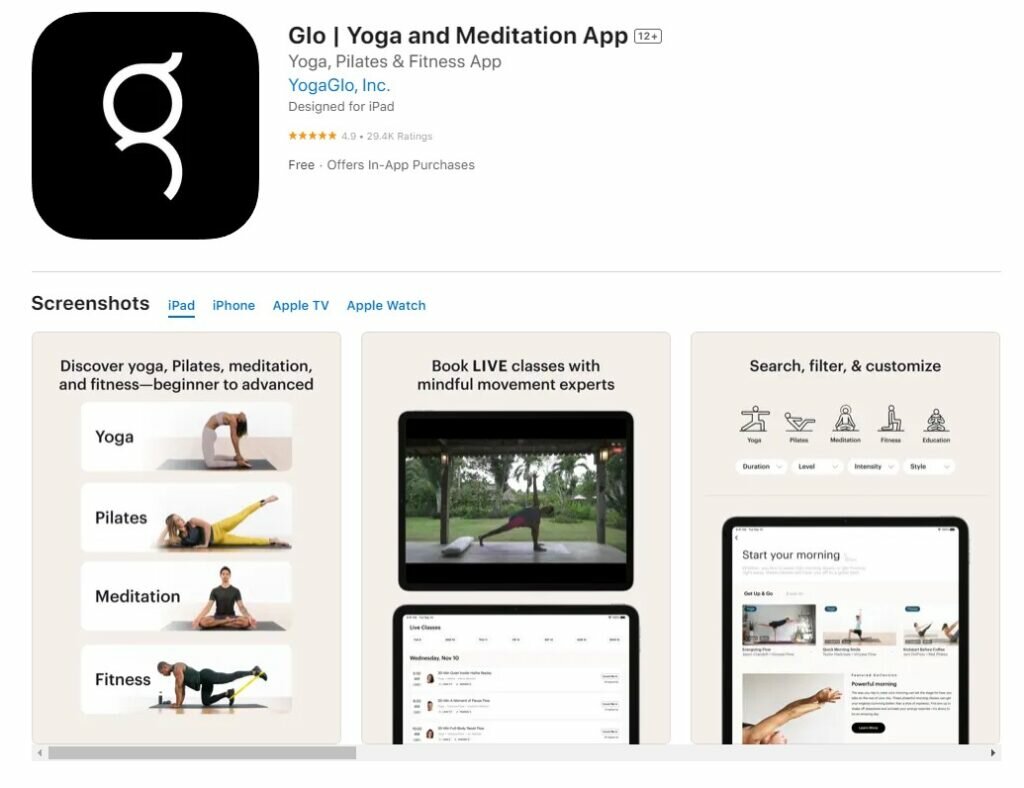 Glo, unlike other free yoga apps on this list, stands out with its brilliant integration of music and yoga. While other apps incorporate soothing music, none do it to the same extent as Glo.
With Glo, each exercise is accompanied by a series of completely original tracks. You have the flexibility to adjust the volume of the music in relation to the voice of the instructor, allowing you to find the perfect balance.
The music enhances your yoga experience, enabling you to push harder and focus on the rhythmic aspect of the practice.
Within the app, you can choose from four different beginner classes, each providing excellent introductions to yoga, meditation, and pilates. While these classes may not be as in-depth as some other apps, Glo offers a wealth of additional materials for you to explore once you've mastered the basics.
All teachers on the app are certified and have extensive experience teaching yoga classes worldwide. What sets this app apart is its searchability and curation features, allowing you to easily find specific classes that address muscle soreness, sleep improvement, stress reduction, and more.
You can add these classes to your library and revisit them whenever you like.
Best of all, Glo adapts to your preferences over time and provides personalized recommendations based on your library. This feature is particularly useful for beginners, as you will continually discover new classes, favorite them, and in turn, uncover even more options.
Glo undoubtedly ranks as the best free yoga app for iPhone users who are uncertain where to begin and seek customized recommendations. Even if you have no prior knowledge of yoga, you can start by searching for the type of exercise you desire and build a list of recommendations from there.
The unique twist of integrating music sets Glo apart, making it one of the finest free yoga and pilates apps for relaxation. Immerse yourself in the harmonious blend of yoga and music as you embark on your wellness journey with Glo.
15. Yoga – Down Dog

Down Dog, one of the most renowned apps on this list, offers both a subscription service and a free version that provides more than enough to get you started and sustain your practice for a long time.
Having previously held the top-rated position in the Google Play Store, Down Dog comes highly recommended by reputable sources such as Buzzfeed and the Wall Street Journal.
For UK users seeking a wide range of options, Down Dog unquestionably stands as the best free yoga app. The app presents various classic yoga styles, including Vinyasa, Yin, and Hatha. With 20 different practice areas available, you can enjoy a comprehensive full-body workout.
The app also offers targeted exercises specifically designed to relieve back pain, with dedicated flows for the upper and lower back.
One particularly impressive aspect is the dynamic music. It harmonizes with your breath, creating an immersive experience and enhancing your focus during the practice.
Moreover, Down Dog allows you to download your favorite exercises, granting you the flexibility to take your yoga practice on the go without relying on an internet connection. This feature is especially beneficial for those who want to enjoy yoga while traveling without consuming mobile data.
As if that weren't enough, Down Dog caters to users whose first language is not English. The app provides instructions from six English-speaking coaches, and exercise descriptions are available in an additional nine different languages. This inclusive feature is truly commendable and sets Down Dog apart as a standout choice among free yoga apps.
Embrace the diverse offerings, immersive experience, and multilingual support of Down Dog as you embark on your yoga journey.
16. Yoga Bliss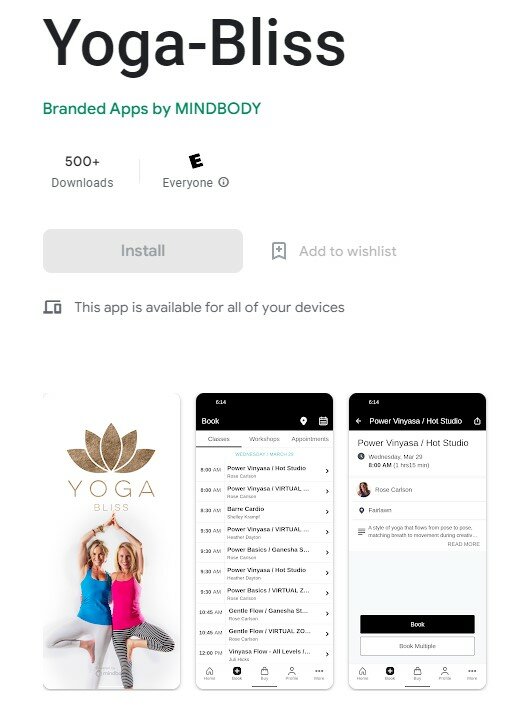 Yoga Bliss is a highly recommended app that offers a wide variety of yoga classes suitable for all skill levels. It provides detailed instructions and demonstrations for each pose, ensuring proper alignment and safety. With Yoga Bliss, you can choose from different styles of yoga, such as Hatha, Vinyasa, and Ashtanga. The app also includes guided meditations and relaxation techniques to help you find inner peace.
17. Zen Yoga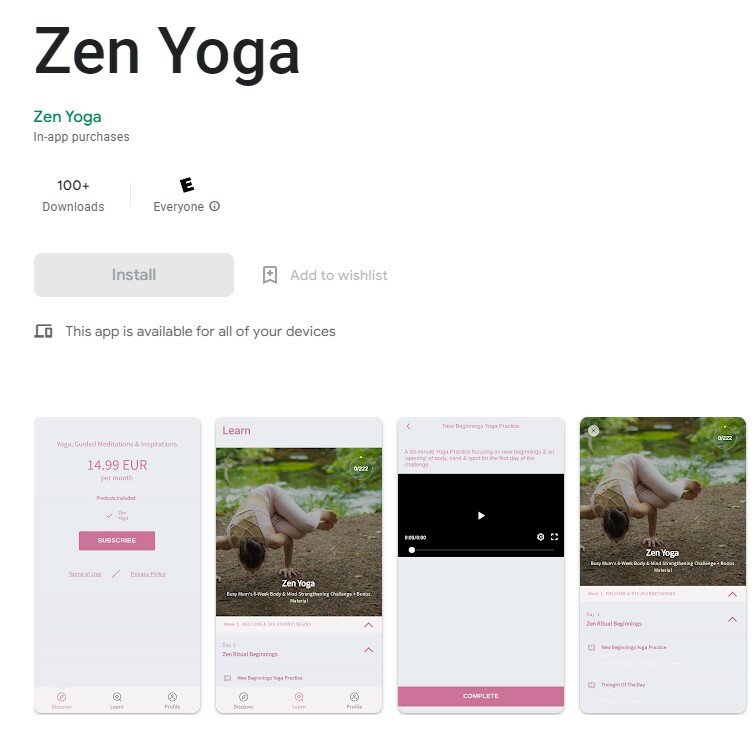 If you're looking for a calming and rejuvenating yoga experience, Zen Yoga is an excellent choice. This app focuses on mindfulness and meditation, combining gentle yoga flows with breathwork and guided relaxation. Zen Yoga offers beginner-friendly classes, making it ideal for those new to yoga or seeking a gentle practice.
18. Mindful Movements
Mindful Movements stands out with its emphasis on integrating yoga into your daily life. The app provides short yoga sequences designed for specific needs, such as stress relief, morning energizing, and better sleep. With Mindful Movements, you can easily incorporate yoga into your busy schedule, finding moments of tranquility throughout the day.
19. Flowing Harmony
Flowing Harmony offers a blend of yoga and fitness, providing dynamic and challenging classes for those seeking active practice. This app includes a variety of strength-building exercises, core workouts, and flexibility-focused sessions. Flowing Harmony is perfect for individuals who want to enhance their physical fitness while enjoying the benefits of yoga.
20. Serene Yoga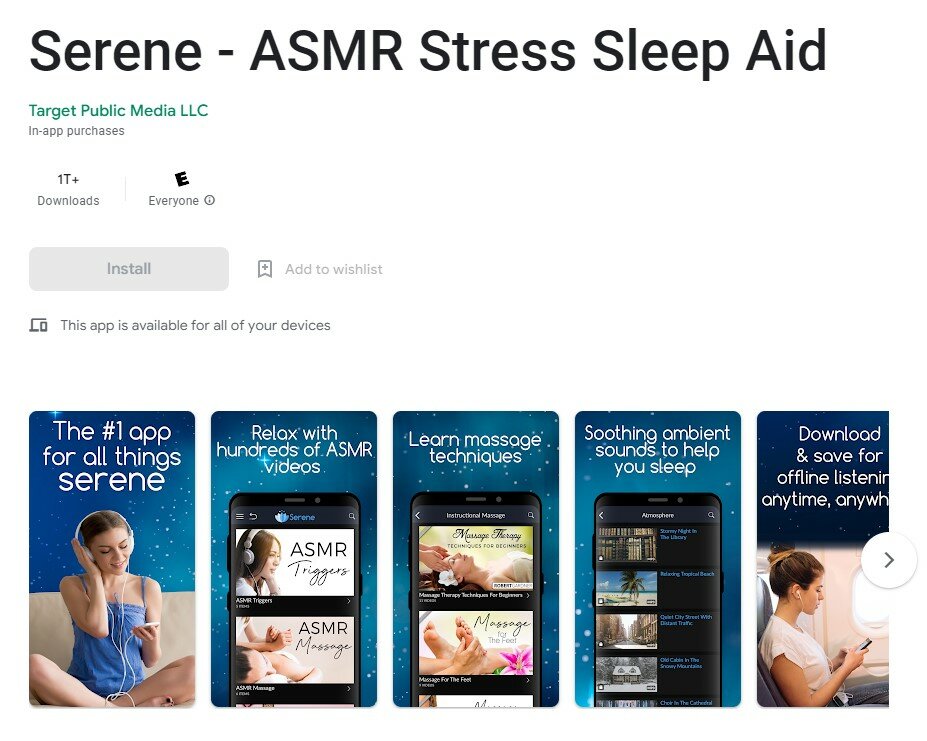 Serene Yoga is a comprehensive app that caters to all levels of yoga practitioners. It offers a vast library of classes, ranging from gentle and restorative practices to more intense and advanced sessions. With Serene Yoga, you can personalize your yoga experience by selecting classes based on duration, difficulty, or focus areas.
How to Get Started with a Yoga App
Getting started with a yoga app is simple and convenient. Follow these steps to embark on your yoga journey:
Download the chosen app from your device's app store.
Sign up or create an account.
Explore the app's features and class offerings.
Select a class that suits your skill level and preferences.
Find a quiet space, set up your yoga mat, and prepare any props you may need.
Follow the instructions and enjoy your yoga practice.
Features to Look for in a Yoga App
To enhance your yoga experience, look for the following features in a yoga app:
Offline Access: The ability to download classes and practice without an internet connection.
Progress Tracking: Track your progress, set goals, and monitor your improvement over time.
Community Support: Connect with fellow yogis, join communities, and share your experiences.
Reminders and Notifications: Set reminders for your practice and receive notifications for new classes or updates.
Tips for Maximizing Your Yoga App Experience
To make the most of your yoga app experience, consider the following tips:
Consistency: Set a regular practice schedule and commit to it.
Listen to Your Body: Pay attention to how your body feels and modify poses accordingly.
Explore Different Styles: Try various yoga styles to discover what resonates with you.
Practice Mindfulness: Cultivate mindfulness during your practice by focusing on your breath and sensations.
Take Breaks: Don't hesitate to take breaks or rest when needed to prevent injury or burnout.
Conclusion
Incorporating yoga into your daily life has never been more accessible with the availability of the best free yoga apps. Whether you're a beginner or an experienced practitioner, these apps offer a wealth of classes, guidance, and resources to support your yoga journey. Remember to choose an app that aligns with your skill level, preferences, and desired outcomes. Embrace the power of technology and enhance your well-being through the transformative practice of yoga.
---
Frequently Asked Questions
1. Can I use these yoga apps if I'm a beginner?
Absolutely! Many of these apps cater to beginners and provide step-by-step instructions to help you get started on your yoga journey.
2. Do I need any special equipment to practice yoga with these apps?
No, you don't need any special equipment. A yoga mat is recommended, but you can improvise with a towel or a comfortable surface.
3. Are these apps available for both Android and iOS devices?
Yes, the majority of these apps are available for both Android and iOS devices. You can download them from your device's app store.
4. Can I track my progress using these yoga apps?
Yes, most yoga apps offer progress-tracking features, allowing you to monitor your improvement, set goals, and track your practice history.
5. Are there any subscription fees or hidden costs associated with these free yoga apps?
While these apps offer free access to their basic features, some may have premium subscriptions or additional in-app purchases for advanced features or exclusive content. Be sure to check the app's details for any potential costs.